{category.name}
Please Note: All products shown are subject to season and availability.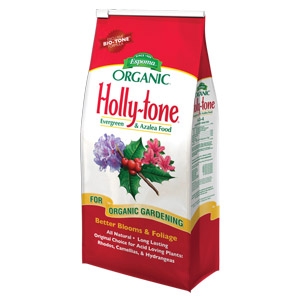 Manufacturer: Espoma Natural Gardening Solutions
Holly-Tone Plant Food is for acid-loving plants, such as hollies, azaleas, camellias, evergreens, hydrangeas, dogwoods, blueberries, strawberries and rhododendrons. It is rich in natural organics and enhanced with Bio-tone® microbes. Used and recommended by Professionals. Holly-tone's all natural formula contains Bio-tone®, our proprietary blend of beneficial microbes. Bio-tone biologically enhances our natural plant food to ensure superior plant growth.
Valid: 05/22/2019 - 05/27/2019
Offered By: Walnut Ridge Nursery and Garden Center
Contact Us Anytime
Feel free to contact us anytime with comments or questions. Our trained staff is ready and waiting to help you. Use this form to contact us and we'll be in touch soon.